13403 Cypress N. Houston, Cypress, TX 77429.
Open daily from 10/12/17 - 10/31/17 | 10 AM-7 PM
TRICK OR TREAT IN THE PATCH | SUNDAY, OCTOBER 29 - 4:00-6:00 PM
Join us for a free family friendly event! Wear your costumes and bring your bag because we will be trick or treating in our amazing pumpkin patch. There will be candy stations, activities, music, food, and fun!
11330 Louetta, Houston. Opens 10/12/17: Monday through Saturday 10 am – 8 pm, Sunday 11:30 am – 8 pm. Movie Night in the Patch: October 15. Concert in the Patch with The Homestead: October 22.
15415 West Rd near Hwy 6, Houston. Start Date: TBD | Monday – Saturday 10 am – 7 pm, Sunday noon – 6 pm.
Dewberry Farm in Brookshire is the overwhelming favorite for fun fall activities. Their pumpkin patch is open weekends September 30 - November 12. Corn maze, hayrides, train rides, ziplines, a barnyard, and over 500 lighted pumpkins in their Pumpkin Hollar. There are also 10 different places to get good food at Dewberry. General admission is $29.95 for ages 3 to 54, and various discounts are available for seniors and law enforcement/military. Each activity is in addition to the admission fee.

The Fall Festival at Oil Ranch kicks off October 1, and is open seven days a week for the entire month. For more than 20 years they have held a Scarecrow Festival and Pumpkin Patch, and have hay rides, tours of the scarecrow scenes, and thousands of pumpkins! Get a free pumpkin for every child with paid admission!
Located 20 minutes west of Katy in Simonton is Blessington Farms! Admission of $18.48 gets you in and access to their activities, including hay rides, giant slides, barrel train rides, animal encounters and more! You can even go fishing on the farm for an extra $6. They'll be open all Saturdays and Sundays until Oct. 29. Their hours are 10 a.m. to 5 p.m. Pumpkins are priced around $0.50 per pound.
Halter Inc. works year round to train miniature horses as pet therapy animals for use by special needs children. Their Pumpkin Patch is open every Saturday and Sunday in October. Admission: $5 per child, and adults are free. There are also pony rides, a petting zoo, a haunted trail, hay rides, a train, a stock yard maze, and miniature horse cart rides. Most of those activities require 1-3 tickets, which cost $1 each.
22101 Morton Ranch Blvd., Katy. Open daily Starting Oct. 1st
2403 Rayford Sawdust, Spring. Weekdays noon – 7 pm, Saturday and Sunday 9 am – 7:30 pm.
Saturday, October 21 • 9:00-4:00 Pumpkin Fest | Saturday, October 28 • 7:00 pm
"The Great Pumpkin Charlie Brown" - Movie in the Pumpkin Patch
Bring the family out on a weekend in October and enjoy the (Texas) fall weather! Entry is $5 per person (age 2+). Once inside, purchase pumpkins or tickets for our eight attractions: Train, Hayride, Petting Zoo (NEW- Available October 7, 8, 14, 15, 21, 22, 28, and 29), Giant Slide, Mini Slide (NEW!), Inflatable Corn Maze (NEW!), Bounce House, and Jump Pad (see below). Enjoy some BBQ in the shade in our Picnic Area. Take some great pictures of your family. Here at the Old Time Christmas Tree Farm, we believe in keeping it simple - spending quality time with your family and getting a real farm experience.
TIP: Bring your own wagon for carrying your pumpkins! | Entry: $5.00 (Everyone age 2+)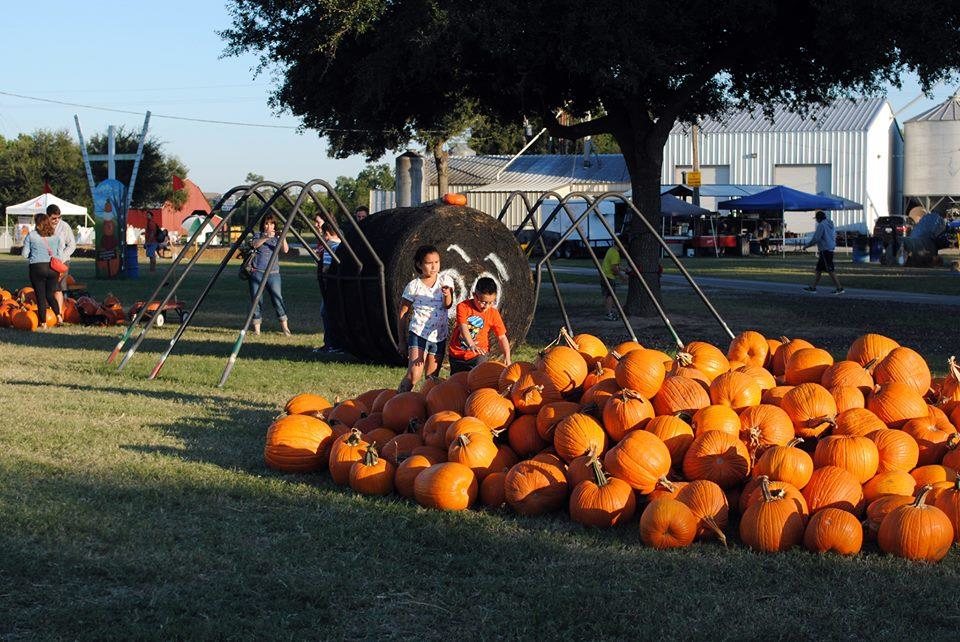 We strive to provide our community with useful information, while providing them with excellent customer service.
Do you have a real estate need? If so, please don't hesitate to contact our Team. We would love the opportunity to earn your business!
Dewberry Farm in Brookshire is the overwhelming favorite for fun fall activities. Their pumpkin patch is open weekends September 30 - November 12. Corn maze, hayrides, train rides, ziplines, a barnyard, and over 500 lighted pumpkins in their Pumpkin Hollar. There are also 10 different places to get good food at Dewberry. General admission is $29.95 for ages 3 to 54, and various discounts are available for seniors and law enforcement/military. Each activity is in a